Some Information about B.Sc. CSIT Course in Nepal
A big question for many students is, Which course to join after completing high school in the Science stream. If you are keen on how the world of Computers works and much other computer-related stuff, then B.Sc.CSIT Course in Nepal is the right choice for you. It is one of the most mesmerizing and valued degrees globally.
 A BSc.CSIT degree is comprised of 8 semesters where each semester is of 6 months and the final semester is combined with an internship opportunity. An internship is a training period in an IT or software company, where you will learn how to deal with a real-world problem by improving your skills and introducing new techniques in Information Technology.
Scope of B.Sc. CSIT Course in Nepal
The scope for CSIT is huge and it's still growing rapidly. Inevitably, it will have one of the largest contributions to the economy as everything is shifting to computers. This field of study allows you to get a job with comfort because you can also remotely work from home for any company.
Google, Facebook, Microsoft, or Amazon hire people with a computer science background. However, it's not easy to get a job in such dream companies as they want you to have skills such as competitive programming, understanding algorithms, cross-team working abilities, and dynamic problem-solving. To sum up, if you have that passion to think out of the box then the world is yours.
For achieving these skill sets, you need to be properly acquainted with such designed subjects that are available in  BSc. CSIT program. And with the best guidance in the town, provided by our Instructors here at Samriddhi College, anyone can get the best out of this degree.
Some of the Popular IT jobs in Nepal are Listed Below
| | | | |
| --- | --- | --- | --- |
| Information Technology Analyst | Database Administrator | Information Technology Leadership | Cloud Computing Engineer |
| Application Support Analyst | Data Center Support Specialist | Chief Information Officer (CIO) | Cloud Architect |
| Senior System Analyst | Data Quality Manager | Chief Technology Officer (CTO) | Cloud Consultant |
| Systems Analyst | Database Administrator | Director of Technology | Cloud Product and Project Manager |
| Systems Designer | Senior Database Administrator | IT Director | Cloud Services Developer |
| | | IT Manager | Cloud Software and Network Engineer |
| | | Management Information Systems Director | Cloud System Administrator |
| | | Technical Operations Officer | Cloud System Engineer |
| | | |
| --- | --- | --- |
| Computer Network Specialist | Computer Support Specialist | Software/Application Developer |
| Computer and Information Research Scientist | Customer Support Administrator | Application Developer |
| Computer and Information Systems Manager | Customer Support Specialist | Applications Engineer |
| Computer Network Architect | Desktop Support Manager | Associate Developer |
| Computer Systems Analyst | Desktop Support Specialist | Computer Programmer |
| Computer Systems Manager | Help Desk Specialist | Developer |
| IT Analyst | Help Desk Technician | Java Developer |
| IT Coordinator | IT Support Manager | Junior Software Engineer |
| Network Administrator | IT Support Specialist | .NET Developer |
| Network Architect | IT Systems Administrator | Programmer |
| Network and Computer Systems Administrator | Senior Support Specialist | Programmer Analyst |
| Network Engineer | Senior System Administrator | Senior Applications Engineer |
| Network Systems Administrator | Support Specialist | Senior Programmer |
| Senior Network Architect | Systems Administrator | Senior Programmer Analyst |
| Senior Network Engineer | Technical Specialist | Senior Software Engineer |
| Senior Network System Administrator | Technical Support Engineer | Senior System Architect |
| Telecommunications Specialist | Technical Support Specialist | Senior System Designer |
| | | Senior Systems Software Engineer |
| | | Software Architect |
| | | Software Developer |
| | | Software Engineer |
| | | Software Quality Assurance Analyst |
| | | System Architect |
| | | Systems Software Engineer |
| | |
| --- | --- |
| Information Security Specialist | Web Developer |
| Information Security Analyst | |
| Security Specialist | |
| Senior Security Specialist | |
| | |
| | Web Developer |
How would B. Sc. CSIT Course help in your career?
BSc. CSIT Course has a huge weight in computer-relevant subjects, which builds a good portfolio and helps you to reach the pinnacle of your career in this ever-growing competitive market.
Having a BSc. CSIT degree allows you to further explore the knowledge of computer science as you are able to join MSc. CSIT, which is a Master's degree in CSIT as post-graduation. In Masters's, one can get a deeper understanding and richer experience in Information Technology which enables one to modify previous versions or even create a new way to deal with computer-related applications which reduces human efforts in various fields.
Why should you study B. Sc. CSIT at Samriddhi College?
We are the Most affordable B. Sc. CSIT College in Nepal with the best infrastructure and resources to provide the highest quality education. We have such brilliant and experienced faculties who are always dedicated to guiding our students with Future-Oriented Teachings.
Samriddhi College stands as one of the Best IT Colleges in Nepal, also considered the Top B.Sc. CSIT College in Bhaktapur because, unlike many other colleges, Samriddhi College provides Market Relevant Extra Courses to the students. We have the Best Placement in the Internship in the final semester too.
B.Sc. CSIT College students must also look at situations beyond the aspects of Information Technology and observe the needs of our evolving societies, so those necessities can be well addressed technically and in return, it uplifts the abilities of students and prepares them for their careers.
Samriddhi College has an unprecedented study environment, where each student is able to participate and can rejoice in various events held by the college, during which the demands of the communities in the context of Information Technology are revealed.
Occasionally, we also organize sessions with notable Computer Science Alumni, so that our students can gain more helpful insights that ensure a better understanding of computer science and its significance to the world. This leads students to exploit their interests in various sub-categories of information technologies which makes it easier for them to decide which sub-domain to choose and move forward with.
At Samriddhi College, anyone can expect The Best Theoretical as well as The Best Hands-on Practical Oriented Education in the B.Sc. CSIT domain.
The unparalleled teaching methods provided by our most experienced instructors have given us One of the Best Graduation Rates in BSc. CSIT at Kathmandu whereas The Best Graduation Rate in BSc. CSIT at Bhaktapur also has given each of the graduates an open door to many of the good IT companies which are most likely to hire them with a decent contract. It is because of this, Samriddhi College has always been on the list of One of the Top Ranking BSc.CSIT College in Nepal.
Entrance Exam for BSc. CSIT in Nepal
BSc. CSIT is one of the best IT courses in Nepal. To study B.Sc CSIT there is a huge competition in government colleges like ASCOL, Patan, and Bhaktapur. This is an undergraduate course or a bachelor course that only science faculty students can apply for this course. Every year more than 10,000  students will apply to study in this course (B.Sc CSIT), but only 2895 students can get a chance. The entrance examination for B.Sc CSIT is conducted by the Institution of Science and Technology( IOST- TU). 35 is the passing mark and 100 is the full mark for the entrance examination. Objective questions will be asked from these five subjects namely, Mathematics, Physics, Chemistry, English, and General IT.   There are a lot of Entrance Preparation books, which makes it easy for students to get prepared for exams.

BSc. CSIT Entrance Syllabus
In an entrance examination for the
BSc.CSIT(syllabus)
, there will be questions from only 4 subjects. Since questions will be only from grade 11 mathematics so it is not necessary to take mathematics in grade 12 i.e. major biology students also can participate in the entrance examination or can apply to give an entrance examination.
Mathematics- 25 Marks
Physics- 25 Marks
Chemistry- 25 Markers
English- 15 Markers
General IT 10 Marks
The detailed Syllabus for BSc. CSIT is: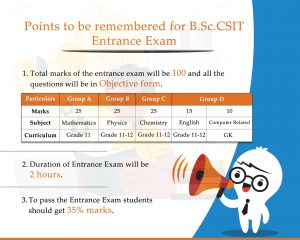 Why BSc. CSIT over B.E, BIT, BCA, BIM?
B.Sc. CSIT has the most well-designed semester-based course structure. – Work Load is Evenly Distributed among all 8 Semesters.
For an individual, who is interested in learning mostly about the field of computers, it is better to choose BSc.CSIT since, this course has more computer-relevant subjects than irrelevant computer subjects compared to other courses. – Allows to Skip most of the Subjects which are Less Related to the Computer.
B. Sc. CSIT has more computer-relevant subjects than other courses which is a piece of good news for computer enthusiasts. – Heavy Weight in a Computer Relevant Course.
Only B. Sc. CSIT course has a great balance between theoretical concepts and practical implementation approaches in Information Technology. – More Understanding of Theory through Implementation.
Along with the project done by students in the 7th semester, B.Sc.CSIT has an Internship program included in the 8th semester, where students as an intern are expected to do some serious official tasks that are assigned to them. – Office Environment Experience even before Graduating
With an Internship program, students as a trainee get real working environment experience in an IT company. At the end of the internship program, based on their performances during the internship period, there is a high chance of getting hired by the same company to work as a full-time paid Employee with an attractive salary. – Has Early and Better Placement Opportunities
B.Sc. CSIT graduates can also apply for jobs in most Government sectors or apply for vacancies at an international company or even apply abroad for further studies. – Globally Accepted Degree
B.Sc. CSIT has a credit hour study system. A credit hour is a measure of credits earned by a student based on hours spent on a particular subject in a week. It is also possible to earn more credit hours than the specified hours (required for graduating), which is done by passing the exams in extra elective subjects, that allow graduates to apply for programs that demand a large amount of study credit hours. – The credit Hour Study System introduces Compatibility and Flexibility during admission to a new or higher program.