BCA Admission Open 2080: Secure Your Future at Samriddhi College
Bachelor in Computer Applications (BCA) program is your stepping stone to a promising career in the ever-evolving field of Information Technology. If you're looking to embark on this exciting journey, you need to be well-informed about the BCA entrance process for the year 2023.
BCA Entrance Form Availability: The BCA entrance forms for the year 2023 are now open for aspiring students. You can obtain the entrance forms from the respective educational institutions or websites. This is your first opportunity to officially register for the program that can shape your future in IT.
BCA ADMISSION FORM DETAILS
Important Dates to Remember: Mark your calendars with these crucial dates to ensure you don't miss out on this golden opportunity:
BCA Entrance Form Deadline: 31st Bhadra 2080 (17th September 2023) This is the last day to submit your application for the BCA entrance. Make sure to complete all the required formalities before this date to secure your seat.
BCA Entrance Exam Date: 20th Ashwin 2080 (7th October 2023) The entrance exam is your chance to showcase your knowledge and skills in various aspects of computer applications. It's essential to prepare diligently to perform well in this exam.
BCA Entrance Exam: The BCA entrance exam is a vital step in the admission process. It evaluates your understanding of mathematics, logic, computer science fundamentals, and general awareness. To excel in this exam, consider the following tips:
Comprehensive Study Plan: Create a study schedule that covers all the relevant topics. Allocate sufficient time to each subject to ensure you have a balanced preparation.
Practice Previous Year Papers: Solving the previous year's entrance exam papers can provide insight into the exam pattern and help you identify important topics.
Seek Guidance: Consider enrolling in a coaching institute or seeking guidance from experienced professionals who can provide valuable insights and tips for the exam.
Stay Updated: Stay informed about current events, especially in the field of technology and IT trends. General awareness is a crucial aspect of the entrance exam.
100% Success Result: One of the standout features of the BCA program is the impressive 100% success rate. This statistic reflects the dedication and quality of education provided by institutions offering BCA courses. With the right preparation and guidance, you too can be part of this success story.
100% Placement in Leading IT Companies: The BCA program not only guarantees academic success but also opens doors to exciting career opportunities. Many BCA graduates find themselves in the enviable position of securing employment with leading IT companies. With a strong foundation in computer applications, you'll be well-prepared to excel in your chosen career path.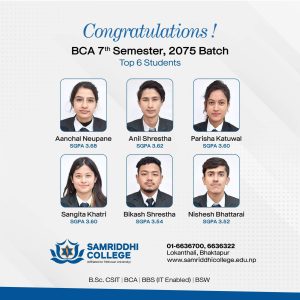 The BCA Admission for the year 2080 is your ticket to a bright future in the field of Information Technology. With the deadline fast approaching, make sure to complete your application and start preparing for the entrance exam. A successful BCA journey can lead to a rewarding career with 100% placement in prestigious IT companies. Don't miss out on this opportunity to turn your IT dreams into reality.
Make the best choice for your BCA journey by considering the Best BCA College In Nepal, where excellence in education meets unmatched career prospects.