BCA (Bachelor in Computer Application) is a four years eight-semester undergraduate program introduced by Tribhuvan university under the faculty of Humanities and Social Science  for students. The students are required to complete 126 credit hours to graduate. BCA course is one of the best and most popular undergraduate degree options for students to start a carrier in Information Technology (IT).  BCA degree is similar to BIT, BSc.CSIT, BEIT, BE. Computer, and many more. This course is selected as a perfectly designed course for students to develop their future in IT. Students will learn all aspects of existing and updating Technologies as well as the impact of technologies in society and the future of society. People are being benefitted from advanced technologies in our country, while the developed countries are already been benefitted and still have an advanced form of learning of technologies through technology. So to develop a student as a leader and driving innovation in a workplace BCA course is being available for students of Nepal. There are many IT colleges in Nepal where BCA programs are running with an affiliation of different Universities: Tribhuvan University, Purbanchal University, and Pokhara University. Samriddhi College is affiliated with Tribhuvan University which falls under the best IT colleges in Nepal. Except for regular courses, this college provides different classes and training related to IT and their interesting field of work such as CCNA training, Python Programming Classes,  Mobile application Development Training each semester.
Objective of the BCA Course:
To develop a student as a professional in a field of Information technologies, software developer, and a computer application as a programmer.
To provide knowledge about the technique and tools used in Software Development.
Train a student to become a leader, problem-solver, and entrepreneur in the field of IT.
To give a base for students to their further study at MIT, MBA, MCA, and abroad study.
Eligibility Criteria  to Study BCA program:
Students should have passed 10+2 in any stream with a minimum of second division or D+ grade with CGPA 2.0 in each subject with English can apply for this course.
Not only a Science stream student can apply but also students from Humanities and Arts also can apply for this course.
Some colleges have their own merit-based system and accept students according to interviews and written exams to select students according to their interest in Information Technology.
Note:- Eligibility criteria may be different according to college.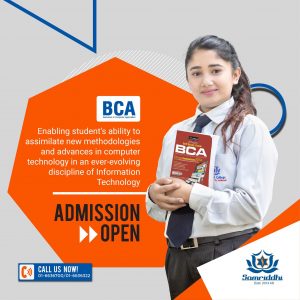 Scope and Carrier:
Jobs for BCA graduate students depend on skills a student acquires. A student can build their carrier as a software developer, web developer, Network Administrator, Software Tester, System Manager, Mobile Application Developer, computer Programmer, etc. There are many fields in IT though they can build their carrier in the research field because BCA is a combination of Theoretical and Practical subjects. All the system is in the process of digitalizing in our country so there are many demands of BCA graduates in the field of IT. The list of Field where BCA graduates can be fitted or can be placed as a job holder is listed below:-
Web Developer
Web Designer
Network Administrator
System Manager
QA Tester
Computer Programmer
IT Technician
System Analyst
UI/UX Designer
Database Administrator
IT Security Specialist
Data Scientist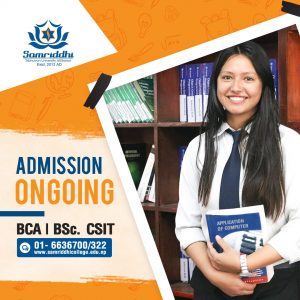 BCA Entrance Examination
To study the BCA Program you must have to pass the entrance examination conduct by the Tribhuvan University, Faculty of Humanities and Social Science. Normally, entrance exams are conducted in the month of Bhadra. The BCA Entrance Test contains one hundred objective questions and has a total weight of 100 marks.
The test has three primary areas – English, Mathematics, and General Knowledge (GK) where English carrying 40% of the total marks, Mathematics with 50% of the total marks, and GK carrying 10% of the total marks.
English Grammar
Mathematics
General Knowledge