In the context of Nepal, you can find many courses according to your interest. If you have a passion for Computer and technology-related stuff Information Technology Courses are one of the emerging courses in Nepal. You can find numerous IT-related courses in Nepal like BSc. CSIT, BCA, BIT, BE Computer, BIM, BCIS, BEIT, BSc.ICT, BSc.Hons, BSc(Hons) Ethical Hacking and Cybersecurity. The National and International  University offers IT Courses in Nepal. Samriddhi College offers the International Standard Study for the students and other facilities like  Online Class, Lab Facility, International Library facility, and so on.
Samriddhi College is established in 2013 AD.  Samriddhi College offers BSc.CSIT, BCA, BBS, BSW Courses to the students. The College is located near Lokanthali-01 Bhaktapur, Nepal. Samriddhi College is one of the Best IT college in Nepal which cares for students' satisfaction in terms of course delivery and other academic resources. College Recognizes the fact that in order to be successful in finding a rewarding career, real-life skills are also essential that way Samridhhi priorities for presentation skills, personality development, professional IT Courses, and speaking skills. The combination of both academic and real-life skills would thus help students towards their holistic development. 
For providing real-time work experience for students, College collaborators with different IT companies to provide internship opportunities like KodeStage Technology, FuseMachine, and many other companies of Nepal. After completion of the first year, students are provided with internship opportunities with renowned Companies in Nepal. Similarly, after the completion of second-year, students are placed in various companies in Nepal and abroad in positions according to their skill level. Hence, by the time a student graduates, he/she would have more than one year of real-time work experience facilitating them to sought positions in the middle level in companies both at home and abroad.
BSc. CSIT  Course in Nepal 
Bachelor in Computer Science and Information Technology (BSc. CSIT) Courses is the 4 years (Eight Semester) Courses each semester is 6 months and 124 teaching Hours.  BSc. CSIT is the Best IT Course in Nepal.  The Case of Study of BSc. CSIT has increased day by day. For Studying the BSc. CSIT Student must pass the Entrance Examination which is conduct by the Tribhuvan University.  If you are planning to Study the  BSc.CSIT Courses in Nepal then Join Samriddhi College. 
Why to Study BSc.CSIT?
BSc.CSIT is designed to produce highly skilled manpower in the field of Information Technology. It fulfills every criterion that the students are seeking for their future in IT. It is totally a practical-based or can say research-based degree which helps the students working in a real-world problem. Due to its best course content, this course is the most popular in our country. BSc. CSIT is one of the charming subjects in Nepal. To overcome the problem of using the traditional system of record management of various offices and companies it is helping in the advancement in the system. BSc. CSIT graduate students can work in various government and non-government organizations. Due to the establishment of various Networking companies, Software Companies, Telecommunication companies students are getting jobs. As we know there is a high demand for skilled peoples in the field of IT. By the completion of BSc. CSIT you can work as a Web Designer, Software Administrator, IT Operator, Computer System Analyst, Computer Programmer, AI Specialist, UI/UX Designer, and many more.
BCA Course In Nepal
BCA,  Bachelor of Computer Application, is an IT-related degree introduced by the Faculty of Humanities and Social Sciences of Tribhuvan University.  BCA is a four-year degree run by different universities in Nepal. BCA Courses was first introduced by  Purbanchal University in 1999. After few years, Pokhara university also has started the BCA Program.  In 2017 AD, Tribhuvan University also has started the BCA Degree.  At first, the BCA degree was introduced only in the constituent campuses, and later on, lots of colleges were given permission to run BCA from 2018. The main focus of the BCA Course is to develop the skilled manpower needed for the application area of the IT Industry.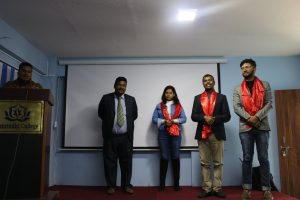 For Studying the BCA Courses in Nepal. you must pass the entrance examination conduct by Tribhuvan University. There are many Entrance Preparation books are available in marketing like BCA Entrance Preparation Book. 
Why to study BCA?
BCA is one of the galvanic courses in today's time all around the world. The students from the science, management, and Humanities stream can pursue their future by getting admission in BCA at the undergraduate level. BCA is also a research-based degree and helps in working in real-time on different projects. You can get a chance to work in various National and International companies if you are highly skilled. It can be said as a skilled-based degree. The more skills you have more the jobs you get and the more you earn.
BIT Course in Nepal
BIT,  Bachelor of Information Technology, is an IT-related degree introduced by the Institution of Science and Technology of Tribhuvan University.  BIT is a four-year degree run by different universities in Nepal. BIT Courses was first introduced by  Purbanchal University in 1999. After few years, Pokhara university also has started the BEIT Program.  In 2076 BS, Tribhuvan University also has started the BIT Degree only in few constituent campuses. The main focus of the BIT Course is to develop the skilled manpower needed for the application area of the IT Industry. 
Why to study BIT?
The main aim of running the Bachelor in Information Technology (BIT) programs is to develop skills in related IT fields. This program develops the skills that are essential for both computer professionals and IT specialists. The design and implementation of the BIT course offer new challenges when compared to the traditional computing environment. The recent emergence of global business, new technologies for data processing and data communication, equipped specialized science graduates to focus on professional careers in Information Technology.
BSW Course In Nepal
Bachelor in Social Work (BSW) degree in Social Work in Nepal provides you with the skills necessary to create a difference in the lives of others, be the voice of the voiceless, and leader in your field. BSW Degree gives you a sense of purpose, a range of career options in the future, and the knowledge that helps you to make a positive impact in the world. Social works may assist people in dealing with their relationship in solving personal and family development. BSW Course is a 4-year course if you are planning to set a career in Social work then Samriddhi College is the right choice for you.
BBS Course in Nepal 
Bachelor in Business Studies (BBS)  is the four-year subject of Tribhuvan University under the faculty of Management (FOM). The main aim of making this subject is to develop students into competent managers for any sector of organized activity. The program is based on the principle that graduates will spend a major portion of theory life in a constantly changing environment. There are many benefits of studying the BBS Course at Samriddhi College like Soft Skill Classes, Providing the Knowledge of IT, Accounting Package, Industrial Field Visits, Job placement, and many more things. 
Why to Study an IT course in Nepal?
Information Technology is a degree of wide scope. Those who are seeking their future in the Digital world can get a degree related to Information Technology. In the 21st century, the world is connecting digitally. No one can sit idle using IT. As we talk before Nepal is a developing country. For this type of Country, Information technology is such a field that serves as a ladder in the development of every aspect of the Nation. Many of us see our bright future abroad after the competition of +2. But taking any of the IT courses in Nepal, no one has to sit idle or jobless. Though it is a skill-dependent course, those who are really interested in this field can work and be paid easily. It is the field you can't imagine how much you earn, if you are highly skilled you are paid to that level of the amount you won't believe. You can earn more than your friend living in abroad countries.
For our country Information technology help in every sector. As we know there is a traditional way of keeping records in an office, the traditional way of the banking system, so to connect digitally to all the states of our country IT is an important degree. Working in your own country or work at your home is really overwhelming for everyone. Because you are also supporting Nation Building. So you earn both money and reputation in your own Country.