In Nepal, there are lots of courses to study. Like management courses, IT Courses,  Science Courses. Information Technology Courses is one of the emerging courses in Nepal.  There are lots of IT Courses In Nepal like BSc.CSIT, BCA, BIT, BE Computer, BIM, BSc.Hons, BSc(Hons) Ethical Hacking and Cybersecurity. The National and International  University offers IT Course in Nepal. Samriddhi College offers the Internation Study Stander for the Student. Like Online Class, Lab Facility, Internation Library facility.
Samriddhi College is established in 2013 AD.  Samriddhi College offers BSc.CSIT, BCA, BBS, BSW Courses to the students. The College is located near Lokanthali-01 Bhaktapur, Nepal. Samriddhi College is one of the Best IT college in Nepal for student satisfaction in terms of course delivery and other academic resources. College Recognizes the fact that is in order to be successful in finding a rewarding career, real-life skills are also essential that way the classes of the college are held on Presentation skills, personality development, professional IT Courses, Speaking skills. The combination of both academic and real-life skills would thus help students towards their holistic development. 
For providing real-time work experience for Student college collaborators with different IT companies to Provide internship opportunities like (KodeStage Technology, FuseMachine, and many other companies of Nepal. After completion of the first year, students are provided with internship opportunities with renowned Companies in Nepal. Similarly, after the completion of second-year students are placed in various companies in Nepal and abroad in positions according to their skill level. Hence, by the time a student graduates, he/she would have more than one year of real-time work experience facilitating them to sought positions in the middle level in companies both at home and abroad.
BSc.CSIT  Course in Nepal 
Bachelor in Computer Science and Information Technology (BSc.CSIT) Courses is the 4 years (Eight Semester) Courses each semester is 6 months and 124 teaching Hours.  BSc.CSIT is the Best IT Course in Nepal.  The Crase of Study of BSc.CSIT is increase day by day. For Studying the BSc.CSIT Studnet must Pass the Entrance Examination which is conduct by the TU University.  if you are planning to Study the  BSc.CSIT Courses in Nepal then Join Samriddhi College. 
BCA Course In Nepal
BCA, the Bachelor of Computer Application, is a new computer science degree introduced by the Faculty of Humanities and Social Sciences of Tribhuvan University.  BCA Is a four-year degree run by different universities in Nepal. BCA Courses is first to introduce y the Purbanchal University in 1999. After few years Pokhara university also starts the BCA Progam.  In 2017 AD Tribhuvan University also Start the BCA Degree.  At first, only the constituent campuses were given the affiliation, and later on, lots of colleges were given permission to run BCA from 2018. The main focus of the BCA Course is to develop the skilled manpower needed for the application area of the IT Industry.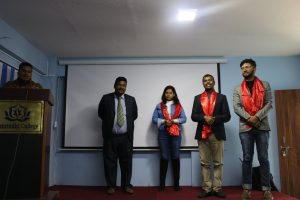 For Studying the BCA Courses in Nepal. you must pass the entrance examination Conduct by Tribhuvan University. There are many Entrance Preparation books are available in marketing like BCA Entrance Preparation Book (Saral Shikshya). 
BSW Course In Nepal
Bachelor in Social Work (BSW) degree in Social Work in Nepal provides you with the skills necessary to create a difference in the lives of others, be the voice of the voiceless and leader in your field. BSW Degreegives you a sense of purpose, a range of career options in the future, and the knowledge that helps you to make a positive impact in the world. Social works may assist people in dealing with their relationship in solving personal and family development. BSW Course is the 4-year course if you are planning to set a career in the Social work then Samriddhi College is the right choice for you.
BBS Course in Nepal 
Bachelor in Business Studies (BBS)  is the four-year Suebhct of Tribhuvan University under the faculty of Management (FOM). The main aim of making this subject is to develop students into competent managers for any sector of organized activity. The program is based on the principle that graduates will spend a major portion of theory life in a constantly changing environment. There are many benefits for studying the BBS Course at Samriddhi College like Soft Skill Classes, Providing the Knowledge of IT, Accounting Package, Industrial Field Visits, Job placement, and many more things.