Bachelor of Computer Application (BCA) Program has started from the academic year 2074/75. In the first stage of the BCA Course in Nepal, this program had been launched in six constituent campuses of Tribhuvan University and had been allocated only 35 seats in each college.
Presently, more than 120 colleges affiliated with Tribhuvan University run BCA Courses in Nepal. It is 4 years (8 semesters) undergraduate Program of TU  and of 126 credit hours. BCA Program runs under the faculties of Humanities and Social Sciences of Tribhuvan University. Samriddhi College is one of the best BCA colleges in Bhaktapur, Nepal. If you are planning to study the IT Course in Nepal then study the BCA course and feel free to join Samriddhi college. 
Why Choose Samriddhi College for BCA?
Samriddhi College offers free IT Professional Course to BCA Students from the first semester to the eighth semester. This college also provides internship facilities for all students in various IT companies in Nepal. These IT Professional Courses are taught by the expertise of IT Industry who has experience of 7 to 10 years in the related field. If they get a good impression of the student's behavior and personality then they will surely offer the internship opportunity to the students. Skill oriented IT course is given to the students to make them able to compete in the rapidly growing IT market. So in nutshell, we can conclude that the approach of IT professional Course from the very first semester makes Samriddhi college, the Best IT College in Nepal 
 Some of the IT Professional Course which is provided by the college are:
Web Design 

PHP 

Laravel

Python 

Advance Java 

Basic Java

CCNA Technologies 

DBA – MySQL – SQL Server
Cloud Computing

. Net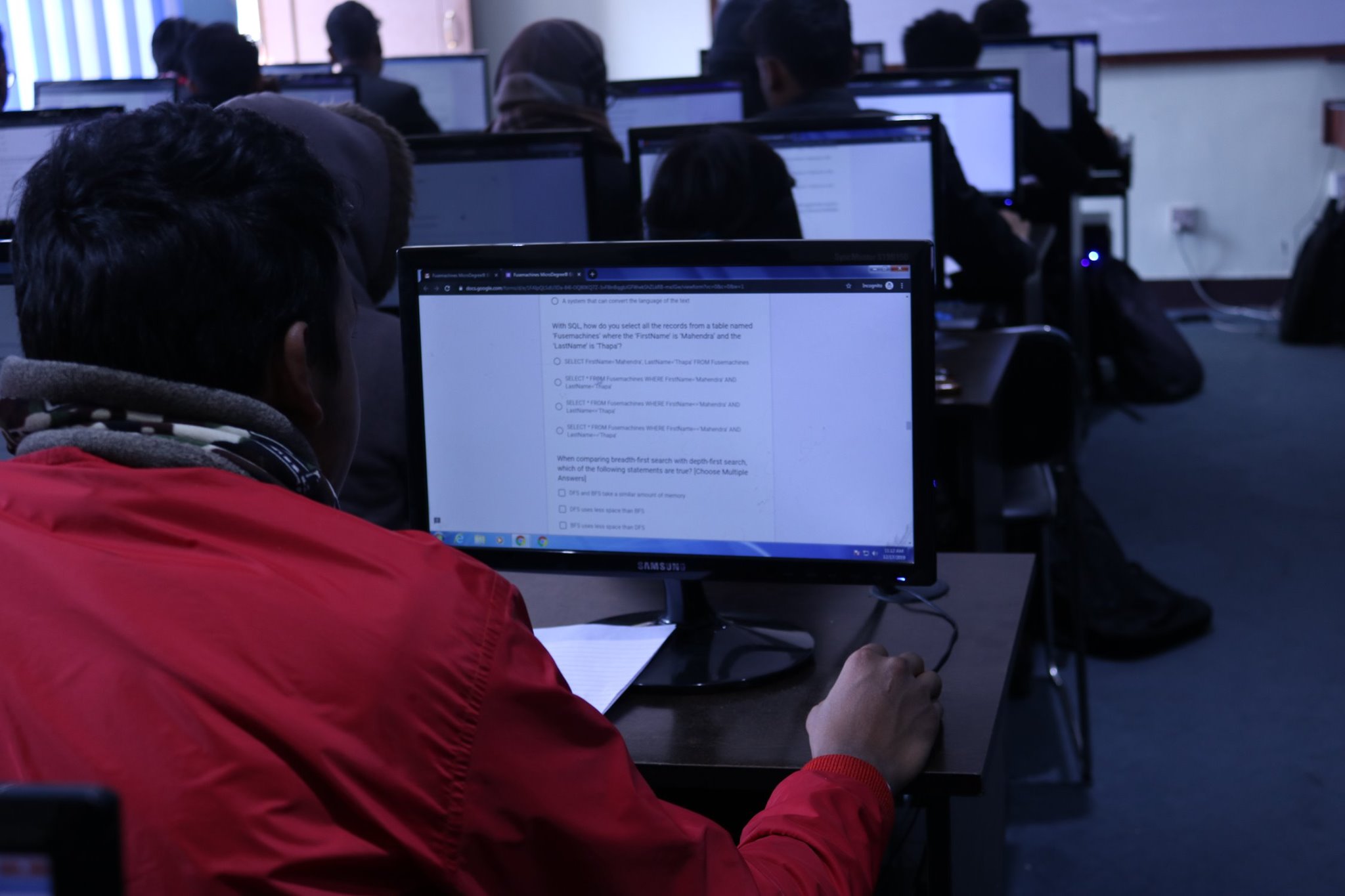 Scope of BCA In Nepal 
In this growing age, the computer has become an essential part of our daily life. Many of our work can be completed with the help of a computer only. Visualizing the demand for the computer in the present context we can predict the requirement of computer operators also to be high. For that, we must all be aware of the basic skills of the computer application, there is always a need for professionals with qualifications to get work done quickly and efficiently. Thus, the students who study BCA at Samriddhi college can secure their best career after BCA degree, that ways Samriddhi College is the best BCA College in Nepal. In today's day and age, getting a BCA degree is compulsory but it is not enough. 
Software developers and different IT professionals develop different types of applications, software, and computer games. This is one of the most popular sectors that has a very high demand in the market and is highly paid as well. IT is such a bewitching field where if you have skills and have the capacity to think out of the box then you can earn without completion of the degree. you can find no salary bound for the one perusing this degree. Some popular IT companies in Nepal which are hiring computer application professionals are given below:
KodeStage Technology

F1 Soft Technology. 

Nepasoft Solutions 

E-Prabidhi 

Info Developers

Verisk 

Deer walk 

Mercantile Communications

Worldlink Communications 

Fusemachines 

ebPearls, and many more.
Career after BCA degree
BCA graduates can also start their careers by applying for the post of system analyst, system manager, game Developers, project managers, database administrators, system designers, programmers, and many more. Information industries and manufacturing industries are always seeking BCA graduate students. 
It is not easy to find high-paying jobs for BCA graduates if one has not chosen the right courses after BCA. One has to take up a post-graduation or professional certificate to have a well-established career after a BCA degree. Students also can apply for further study after BCA Graduate courses like Master of Computer Applications (MCA), Master in Information Technology (MIT), Master of Business Administration (MBA), Master in Information Management (MIM), and many more. Since the demand of BCA Graduate students is at the top level in the market we appeal to the students who really are interested in computer-related stuff to enrolled for  BCA course and get a Bachelor degree and secure their best career after a BCA degree.
Learn More about BScCSIT Course in Nepal 
Eligibility Criteria of BCA Courses
Students who have passed PCL or +2 or Equivalent examinations with minimum  D+ grade in every subject. 

Samriddhi College also offers a free BCA Entrance Preparation class for interested students.
Note: Students who have passed grade 11 and are waiting for the supplementary exam of grade 12 can also apply. However, they have to submit all the required documents at the time of admission.
BCA Course Fees Structure in Nepal
Normally, the free structure of the BCA Course varies from college to college. Amount variation is based on the prestige, faculty, infrastructure, and placement history of the college as well as government and management quotas. The fee structure for the BCA Course ranges from 4,00,00 to 15,00,000 of  4 years. It will divide into 8 semesters, Each semester is of 6 months, and the college divides the fee structure into 2 installments it will make it easy for Students.
BCA Entrance Exam syllabus
To get enrolled in BCA Course for Bachelor's degree,  Students must appear on the BCA Entrance examination which is conduct by the Tribhuvan University, Faculty of Humanities and Social Science, and secure minimum pass marks i.e. 35 marks. The time period of the entrance exam is 2 hours. Within 2 hours students must solve 100  questions each of 1 mark. Many the Institution Start BCA Entrance Preparation Class you may join there. The question pattern is as:
English – 40 Marks
Mathematics – 50 Marks
General Knowledge – 10 Marks
Top 5 BCA College in Nepal 
In Nepal there many IT colleges that offered BCA Courses to students. Kathmandu is the hub of IT College here are some Best IT colleges in Nepal. Information technology is one of the most popular subjects among the students and parents also Prefere their children to study IT.
Samriddhi College
Pascal College
Taxes College
ACHS College
Times Int. College
Samriddhi college is the best BCA College in Nepal among all others.