BIT Course in Nepal is a four years degree run by Tribhuvan Univesity, Pokhara University & Purbanchal University. the full form of BIT is Bachelor of Information Technology. Students who want to make a career in network or systems can go for a BIT degree. The main focus of BIT is in networking, data communication, computer system. Although core computer courses are similar to most computer courses, however, students will encounter lots of network-related courses throughout the BIT degree. BIT graduates can work as network administrators, system administrators, network security specialists, and so on. BIT graduates can also go for software development however, the major focus area of the course is not towards programming.
BIT Course in Nepal
This program was started by Tribhuvan University in 2076 B.S. Bachelors in Information Technology (BIT) program of Tribhuvan University is designed by closely following the courses practiced in accredited international universities, subject to the condition that the intake students are twelve years of schooling in any stream or equivalent from any recognized board. Currently, only seven constituent colleges run the program under TU.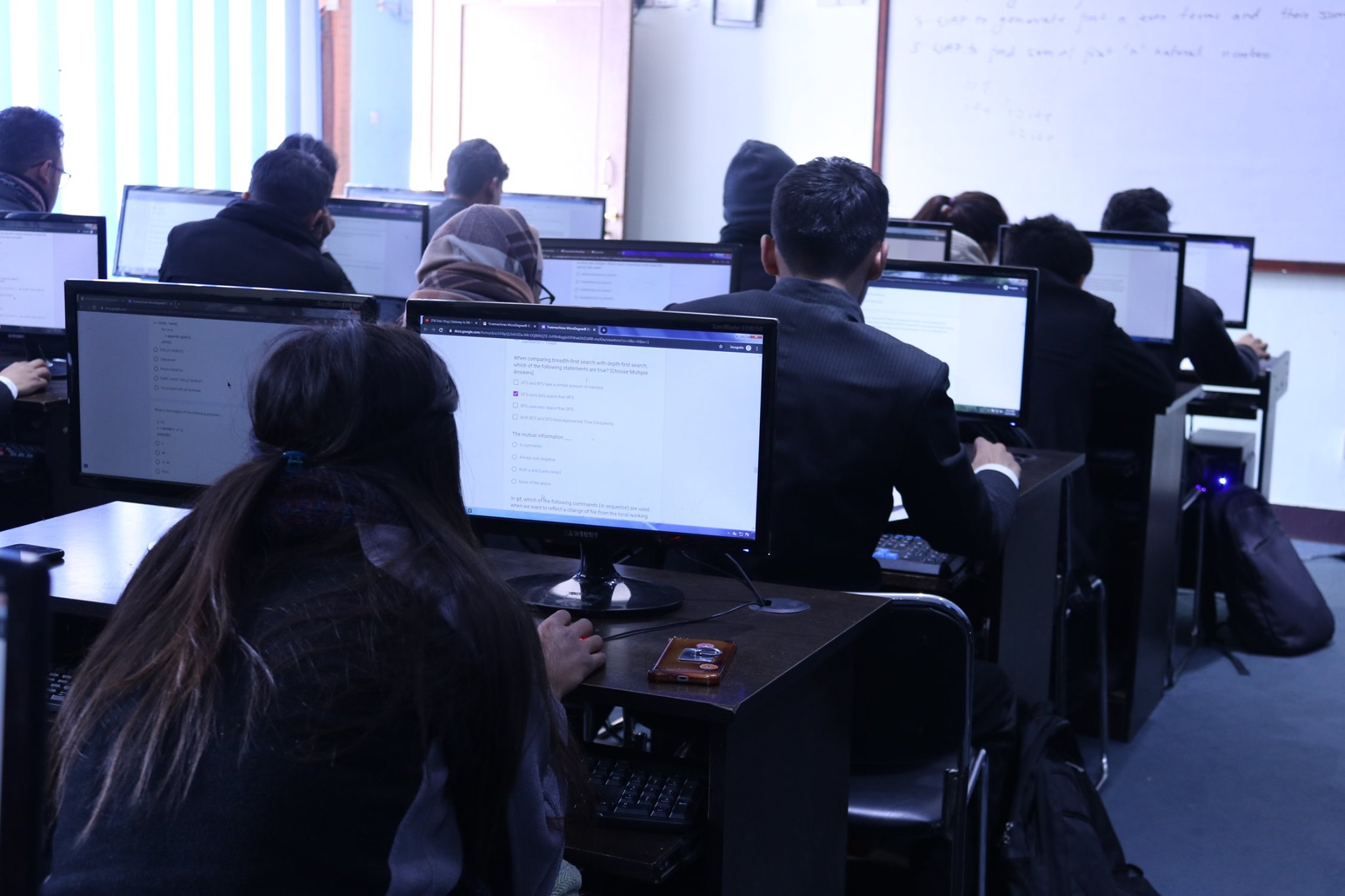 In addition to the foundation and core Information Technology courses, Bachelors in Information Technology (BIT) offers several elective courses to meet the undergraduate academic program requirement and to fulfill the demand for the development and implementation of new technology. Samriddhi college is the Best BIT College in Nepal.
The Scope of BIT Course In Nepal
After the completion of the BIT Course in Nepal, doors of many fields are opened for you. You can either work in private/ public institutions or you can open your own private IT Company.
As a graduate with Bachelor in information technology (BIT), career opportunities are limitless! Be its  IT Company of Nepal, Digital marketing, Banks, Corporate and Government offices, supermarkets, corporate and education institutions, all businesses need Information Technology! Therefore, it provides a diverse range of career and field choices for computing graduates.
After BIT Course Graduation, you could either apply for a Bachelor's degree, start a venture of your own, or apply for various positions such as security analyst, web developer, programmer, database administrator, systems administrator, and many other positions relating to technology or management.
Some of the jobs titles you can get after the BIT course Completed are:
Web Developer
Digital Marketing Expert
Analyst programmer
Application integration engineer
Application support manager
Computer operator
Computer programmer
Computer systems manager
Desktop support
Desktop technician
JAVA developer
Network engineer
IT consultant
Program analyst
Project manager
Software engineer
System administrator
System analyst
SEO specialist
Data Analyst
What is the Eligibility for BIT in Nepal's College?
Entry requirements for this course are normally:
Should have successfully completed a twelve year of schooling in any stream or equivalent from any university, board, or institution recognized by TU.
Should have secured a minimum of the second division in their +2 or equivalent OR should have at least a 'C' grade or CGPA 2.0 in all subjects in Class 11 and 12 by taking English and Mathematics of 100 marks.
Passed A level in any stream and secured at least a 'D' grade in English and Mathematics.
Passed 3 Years Diploma in Engineering program from CTEVT taking both English and Mathematics.
The requirement may differ according to universities or colleges where some of the institutions increase the minimum eligibility criteria.
Fee Structure of BIT in Nepal
BIT College in Nepal
In the First Stage of BIT Course Luch by Tribhuvan University, the university only gives its own Constitution campus to run BIT Course, Patan Multiple Campus, Siddhanath Science Campus, Nepaljung Campus, Birendra Multiple Campus, Mahendra Morang Adarsha Multiple Campus get affliction to run BIT Course in 2019 AD. Here are some to BIT College in Nepal given below:
Amrith Science Campus
Bhaktapur Multiple Campus
Siddhanath Science Campus
Nepaljung Campus
Birendra Multiple Campus
Mahendra Multiple Campus, Nepalgunj
Mahendra Morang Adarsha Multiple Campus
Central Campus of technology
Bhairawha Multiple Campus.